Biography
Debbie Erhardt, Realtor
Specializing in the 'sweet spots' of Vancouver neighborhoods.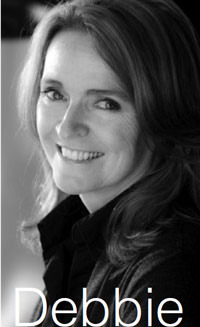 Raised on the West Coast, Debbie Erhardt knows what it means to love your home. Familiar with Vancouver's gorgeous landscapes from sea to sky, she has developed a knack for recognizing people's values and dreams and helping them find the perfect properties to fulfill them.
As creator of Vancouver's number one boutique yoga studio "Yoga Sukha", Debbie led the community for over 10 years, nurturing talented teachers with her innovative approach and helping hundreds of people improve balance in their lives, promoting health and rejuvenation.
Debbie studied fine art at Emily Carr University and has a keen sense of design. This was an asset to her when she joined the film and television industry to work as a set decorator. Her experience on set as a prop master gives her the edge to stage your home, creating beauty and welcoming spaces that reach out to potential buyers.
Debbie's project management skills are flexible and diverse. She has worked as an independent business person, successfully managing small and large budgets, carefully keeping her eye on the bottom line. In honing her negotiating skills, she has been able to satisfy the needs of even the most discerning, meticulous individuals, both on film sets and in her yoga studio. Her calm and grounded demeanor will put you at ease in the most challenging situations and lead you to a decision that is right for you.
Debbie has lived the majority of her life in Kitsilano and has raised two children, both of whom are award winning directors in film.
She is dedicated and passionate about doing what it takes to help people find the right space – the space that will satisfy your needs and help you create your dream home.
https://vimeo.com/192673758